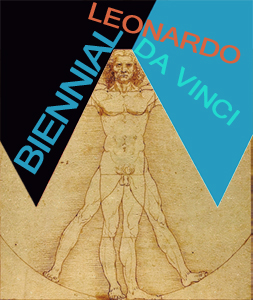 BIENNIAL LEONARDO DA VINCI
The inclusion is open to all artists.
Step 1: Please have the image files of your works ready on your computer hard drive. You will need them as you filling out the application form.
Step 2: Download and Complete the Application Form. Enter and e-mail your information and the works details.
Step 3: All entries are approved on entry fee payment provided online as the 3rd step of the application. Make your payment by PayPal or by Direct Transfer (ask for details) or by Western Union (ask for details).
Step 4: Forward the visuals of the works as online or attachment (up to 8 artworks)

How many pieces of artwork can I exhibit?
You can provide up to 8 works submitted online as attachment send to info@artaddiction.net.
How long can I exhibit my art on Art Addiction BIENNIAL?
A minimum of two- years beginning with the date of the inclusion.
Which artistic techniques are accepted?
You can provide oil / acrylic painting, drawing, ink, sculpture, graphic, encaustic painting, aqua tint, aqua forte, dry point, mezzotint, fresco-secco, glaze, pastel, impasto, watercolor, wet-on-wet, tempera, offset, installation footage, photography, video, film, animation, sound art, web art, digital art, ceramic, tapestry, illustration, book projects, mixed media, architecture projects, design projects, papier collé /collage, airbrush, graffiti, spray painting, body painting, time-based media and many more.

What is the Images size?
Submit low resolution JPG image files 72 dpi / 800 - 1000 pixels with the works title, year, medium, size and price.

How much does it cost?
The entry fee is 50 Euro / 65 USD, up to 8 works two-years on display beginning with the date of the inclusion.

How to provide the Entry Fee payment?
The payment methods are by PayPal, WU and Direct Transfer in account.
For payment by PaiPal click-on PayPal USD or PayPal Euro at http://www.artaddiction.net/webpages/contact.htm
For payment by direct transfer on account ask for bank details.
For payment by Western Union ask for address details.
The Awards!
Grand Prize: One artist will be awarded two-page in "ART UNLIMITED Contemporary Artists" value $4,490
Prize of Excellence: Two artists will be awarded one-page in ART UNLIMITED value $2,250
Mention: 100 Artists will be selected for Diploma of Excellence (Honorable Award)
How awards are determined?
By the art professionals, by artists and art lovers. Art Addiction staff will tabulate the number of votes and qualifications of eligible nominees to determine finalists. The list of finalists will be posted online on the site.
Pro-art people and art lovers may vote for their choice of winner from that date through close of the BIENNIAL.
To keep in mind!
It is important to notice that the images of the works of your contribution ought to be of a quality that is sufficiently high so art lovers and collectors will not to have any doubts about the quality of the work and the professionalism of the artist.
What happens to my application?
The gallery decision are provided via e-mail to each submitter. When a submission is accepted the artist will receive a link of the inclusion. As a participant you will receive a personified Certificate of Participation.
Can I get the entry fee refunded?
If your submission is not accepted the entry fee will be entirely refunded.
What happens when my artwork is purchased?
The Gallery is not responsible for the selling or shipping of the artist's works. All financial transactions are forwarded to artists and are strictly between the customer and the artist. Art Addiction takes a 0% commission.
Submission Period
2012 entries are open!
All submissions should be made by e-mail to: info@artaddiction.net
If the artist is chosen as a winner then we will ask the pictures of the works at print resolution for publication in ART UNLIMITED, a collector art book in Masters of Today Art Book Series at WOA.